40 Shoe Styles From Around the World and Their Origins
40 Shoe Styles from Around the World and Their Origins
When conquerors, diplomats, artists, politicians, rulers, and explorers shaped history, they most likely did so while wearing shoes. This infographic explores iconic shoes, strange shoes, fashionable shoes, ancient shoes, traditional shoes, and work shoes from around the globe.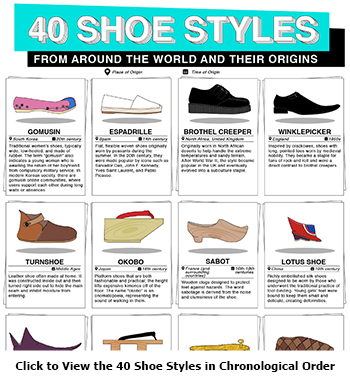 Learning about shoes around the world can help shed light on the histories, lifestyles, practices, religions, climates, fashions, and traditions of cultures both past and present. Much like humans, shoes have ancestors, or styles that came before them. For example, creepers are now a popular alternative fashion choice, especially within the indie, ska, new wave, psychobilly, greaser, goth, and punk subcultures. However, they once had a much more practical, down-to-earth function. Originally worn in North African deserts, their thick soles were designed to handle extreme temperatures and sandy terrain.
When Were the First Shoes Ever Made?
The first shoes ever discovered were sagebrush bark sandals from approximately 7000 to 8000 B.C., making them the world's oldest shoe that has been unearthed thus far. This primitive footwear was found in the Fort Rock Cave in Oregon in 1938 by archaeologist Luther Cressman. He excavated dozens of these sandals from volcanic ash, determining that they were solidified in time by the eruption of Mount Mazama 7,500 years ago. The first shoe ever made, nicknamed "Fort Rock sandals" by Cressman, have a complex woven construction that has been found in other sandals within ancient deposits in caves throughout the Northern Great Basin region. It would not be until a decade after the initial discovery was made that carbon-dating technology was able to determine that the sandals were more than 9,000 years old, confirming that they are the world's oldest shoe. This tidbit of knowledge could prove useful in trivia, to impress a history buff date, or to answer your child's question of, "Did cavemen wear shoes?"
When Were the First Leather Shoes Ever Made?
The first leather shoe ever discovered is known as the Areni-1 shoe. This 5,500-year-old one-piece leather shoe was discovered in 2008 in exceptional condition in the Areni-1 cave in the Vayots Dzor province of Armenia. It was discovered by Armenian archaeology student Diana Zardaryan, who located it upside down at the bottom of a shallow, plastered pit beneath an overturned Chalcolithic ceramic bowl. The near-perfect condition of this leather shoe was attributed to the cool and dry conditions and layers of sheep dung that acted as a seal. It is believed that this leather shoe is approximately a women's U.S. size 7, but the head archaeologist of the expedition, Ron Pinhasi, stated that "the shoe could well have fitted a man from that era."
What Are Some Iconic Shoes From Around the World?
Fashion around the world is influenced by different cultures, lifestyles, practices, traditions, religions, materials, and climates, and shoes are no exception. In sunny, breezy countries, you will discover lightweight, woven footwear such as espadrilles from Spain, and in the Arctic, you will find rugged, warm, flexible boots such as mukluks.
Some iconic shoes are deeply interwoven with art and tradition. Japanese geisha shoes are quintessential examples of footwear that unite art, story, and heritage. Apprentice geisha (known as maiko) in Japan adorn their feet in okobo, which are elevated wooden sandals that make a distinct noise when you walk. Some contain a dangling bell within a hollowed-out hole in the bottom. They are normally crafted from paulownia, which is a plant native to Asia that produces sturdy, lightweight wood. The hanao straps indicate the apprentice geisha's status and training; crimson straps are worn by new maiko, while yellow ones are worn by senior maiko approaching the end of their apprenticeship.
Another example of deeply storied footwear are the Kolhapuri chappal from India. These meticulously handcrafted leather slippers can take up to six weeks to make, with thorough attention given to each step; skiving, pattern-making and cutting, attachment of the upper and bottom heels, stitching, finishing, punching and trimming, decoration and polishing, and assembling are all part of the process. They were originally made from buffalo hide and thread, making them heavy but durable in the extreme heat and mountain terrain found in Maharashtra. In July 2019, Kolhapuri chappals were given a geographical indication tag from the Indian Controller General of Patents, Designs & Trade Marks. This means that artisans within specific regions can create and sell genuine Kolhapuri chappals locally and abroad and that the name can no longer be used to label similar knockoff products.